Scott Wantland's Successes
Commonwealth of Kentucky CASA Guardian Ad Litem of the year 2014
In March 2014 Scott was recognized by CASA as the guardian ad litem (children's attorney) of the year for the Commonwealth of Kentucky. In all 120 counties of the Commonwealth, Scott was named the attorney who best fights for the rights of children who suffer at the hands of their parents.
Scott credits his success largely to willingness to fight for those that many see as easy ignore- abused children largely raised in poverty. "Most of these kids never had a parent that cared about anything but getting high. Social workers, teachers, people like that- they're overwhelmed with cases. They get in trouble if they make someone, even a strung out parent, angry. The only person I have to answer to is that kid. As long as the child is protected, I don't care whose feelings I hurt".
CASA (Court Appointed Special Advocates) serves children who find themselves in the court system as a result of parental abuse and neglect. CASA volunteers are assigned to focus solely on the needs of the child. CASA recognizes an attorney annually who above all others has advocated for the welfare of child clients.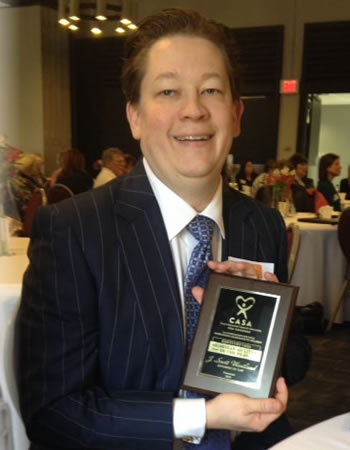 Scott's Achievements
Hover over each image to view details.
Scott Wantland voted president of the Bullitt County bar association for a sixth term!
VOTED BEST ATTORNEY IN BULLITT COUNTY.
Governor Steve Beshear reappoints J. Scott Wantland to the KY Higher Education Assistance Authority Board of Directors and the KY Higher Education Student Loan Corp. Board of Directors to serve for a term expiring 7/15/18.
CASA Commonwealth of Kentucky Guardian ad Litem of the year.
*Scott Wantland pictured with Hon. Elise G. Spainhour, CASA Judge of the year.
Scott represents the President, yes, THE President.
Jury returns 11.5 million dollar verdict against the City of Hillview.
Bullitt County Democratic Executive Committee elects Scott chair.
Gov. Steven L. Beshear appoints Scott to Bullitt County Board of Elections.
Bullitt County Bar Association elects Scott president.  Scott serves four consecutive terms ending in February 2014.
At jury trial, Scott wins acquittal of DUI client.
Bullitt County Democratic Executive Committee elects Scott vice chair.
Bullitt County CASA recognizes Scott as Guardian Ad Litem of the year for Bullitt County.
In first jury trial (rape 1st degree), Scott wins acquittal of client.
Truck America et al v. Hillview et al is filed. Scott signs the complaint.
Scott admitted to the practice of law in the Commonwealth of Kentucky.
Scott graduates from law school at University of Louisville.
Scott graduates from University of Louisville, BA in economics.
Delta Pi of Beta Theta Pi inducts Scott.
Scott graduates from Bullitt East High School.  Appointed to Board of Directors of Bullitt County Economic Development Authority.  Co-Founded Bullitt County Education Foundation to establish community college.
Don't Just Take Our Word For It.